Zoned for Horse People. Built for Horsepower.
Deep down I know it's just the eight cylinders of the 428 Super Cobra Jet engine chugging through their firing sequence, but it sounds like Henry Ford trapped a stable of goddamn demon horses in the engine bay. The incredibly satisfying rumbles bounce off neighboring houses, and the exhaust stirs up dust from the soon-to-be paved dirt road. Kelly grins. I'm smiling ear to ear like a 7 year old at a car show and I've completely forgotten why I'm here in the first place.
"How do you want me to park?"
"Huh? Me? OH! Right. Uh, could you back it in diagonally? That'll look cool."
He swings the Acapulco Blue beast around and backs his 1970 Ford Mustang Mach 1 in diagonally, just like I asked him to.
Then he asks about the 2007 Shelby GT500, Torch Red with white striping. I ask him to park it diagonally next to the 1988 Mercedes 560 SEC that's sitting on the two post lift. I ask, because you don't TELL a man of Kelly's stature anything. You ask politely and hope. Built like a prize fighter and proud of the scars hidden in his white hair from "dropping engines on my head", you think twice about giving orders. Crack a joke, however, and he's quick to light up the room with a hearty laugh. His better half, Wanda, impossibly sweet and kind, describes the cars as "the blue one" and the "red one". Opposites, ya know?
In the 2,352 square foot garage, he has absolutely no problem executing a flawless four-point turnaround in the 500hp Shelby, and you get the feeling that he could have done it in half the space. Part of me hoped he'd light the tires up a bit, but again that's only because in my slack jawed stupor, I had forgotten that I was here to do a job.
The buzz of my photographer's drone whizzes overhead and I'm reminded why I'm here.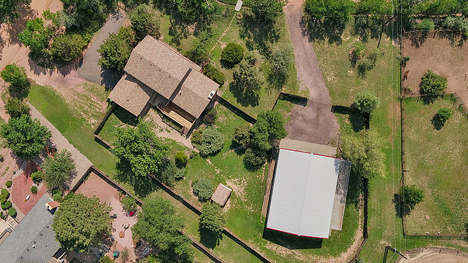 Ten minutes northeast of Downtown Colorado Springs, recently recognized as the most desirable city to live in the United States by U.S. News, sits a small oasis for horse lovers and country living enthusiasts. While the majority of homes in the 80915 zip code sit on postage stamp lots of a quarter acre or less, Rustic Hills Subdivisions 1 and 2, a development from the 1960's of less than 200 homes, has nothing but one and two acre parcels zoned for horses.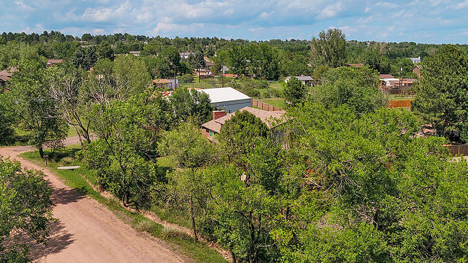 Being just five minutes from the ever growing Powers Corridor, fifteen minutes from the incredibly convenient Colorado Springs Airport, and ten minutes from the booming downtown area, frustrated home buyers who want to be close to the action with a little more space are starting to realize why these properties rarely come up for sale. When For Sale signs DO pop up, they're usually scooped up by savvy buyers in just a matter of days.
And that's why I'm face to face with three of the coolest cars I've seen in a long time, one of the coolest dudes I've met in a long time, and his absolutely lovely wife. I'm here to sell this incredible property for them. Today, we're getting professional photography and a virtual walkthrough for the listing. The cars were my idea. Mostly, I wanted them to be in the pictures to give potential buyers an idea of just how big the garage is, but secretly I also just wanted to have an up-close look at a few pieces of Kelly's collection. Super secretly, I had hoped he'd let me drive one. He did not.
Built in 1965, 5002 Brady Rd is a four bedroom three bathroom house that is quaint and undeniably charming. Sitting on an acre, it originally had horse pens on the north half of the property. Trees and bushes surround the house and create a tranquil and quiet atmosphere. Relaxing on the deck with a warm summer breeze blowing and condensation building on the glass of your cocktail, you'd have no idea that you were right in the heart of a bustling city.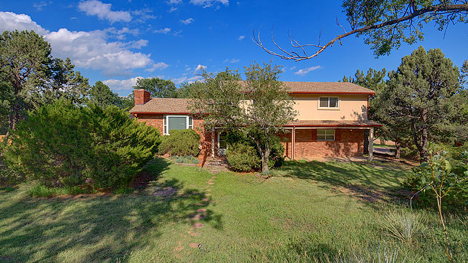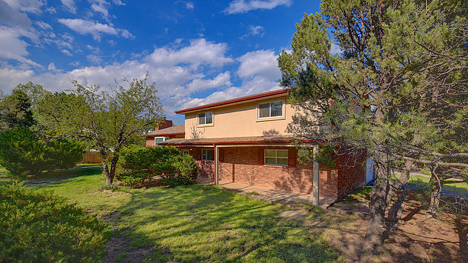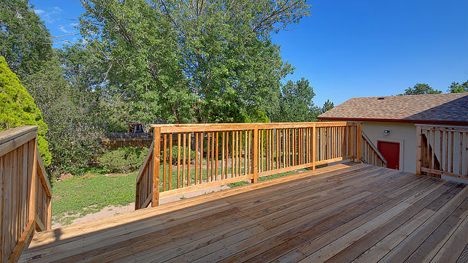 In between stories of car builds of the past, Kelly points out the concrete pad off the back deck that has 220 service ready to power a hot tub. The crawl space beneath the house has been dug out for a huge storage area and easy access to the newer furnace and water heater. Original, well-kept hardwood floors adorn the upstairs bedrooms, giving the house a peaceful, comfortable, country feel. It feels like the kind of house where you'd raise kids who say "yes, sir" and "yes, ma'am". Where you'd sit around the table for freshly made pancakes and bacon on Sunday mornings. Where you'd fall asleep sore from a hard days work, and wake up with the sunrise ready to do it again.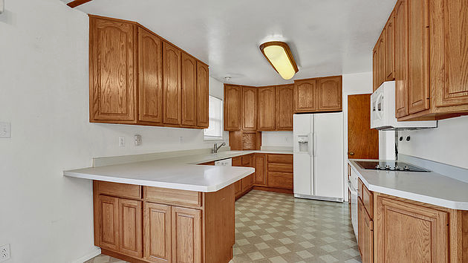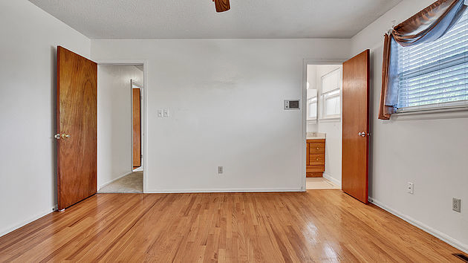 Sometime in the 1980's, before his and Wanda's ownership, Kelly tells me that the original two car garage was converted to finished living space, and another two car garage was added onto the structure. This brought the total square footage of the house to just under 2,500 square feet while retaining enclosed parking for two cars. For most people, that's plenty. For a man with a passion for collecting and wrenching on old American muscle cars, two garage spaces were never going to be enough.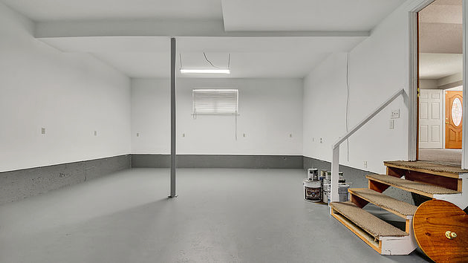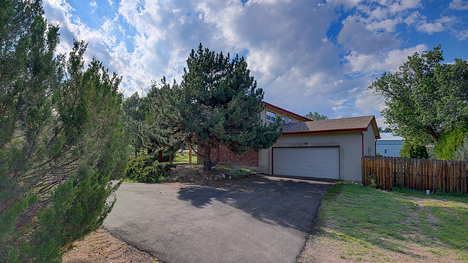 So in 2008, the horse pens came down and the aforementioned 2,352 square foot garage went in its place. Capable of holding ten cars, countless motorcycles, possibly two RVs (with creative parking) or whatever else you could dream of, it was constructed as a means of containing Kelly's obsession to one area. He mostly filled it with Ford Mustangs of every vintage, but the garage has also seen Mercury Cougars, Pontiac GTOs, Chevelles, Chargers, Fairlines, Galaxies, Impalas and anything teenagers had posters of on their walls in the 70's. Even though he jokingly (I think) took a shot at my BMW 550, the garage has also seen it's share of Autobahn cruisers like the old Merc on the lift*. After ten years and God knows how many cars, he's ready to let another gearhead enjoy it.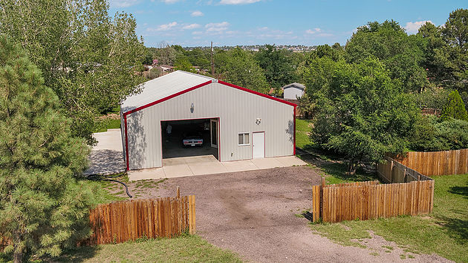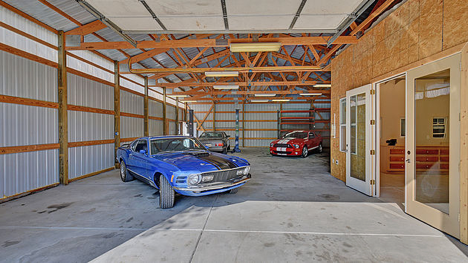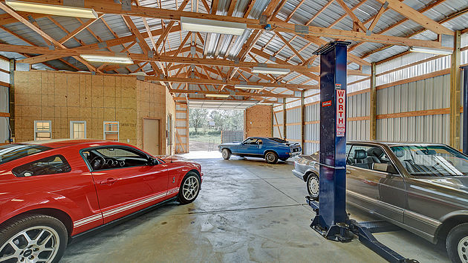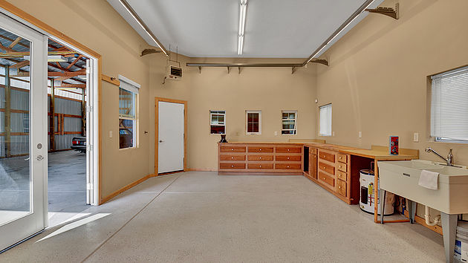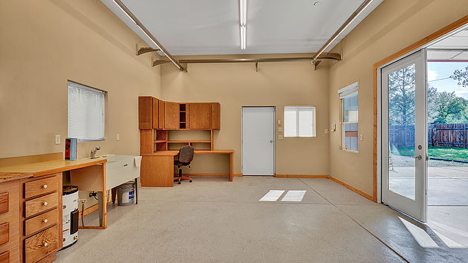 So now you have the opportunity to own this enthusiasts dream. The hydraulic two-post lift, capable of hoisting up to 10,000 pounds is included with the sale. The workshop includes heat, running water, and two 220 amp outlets for the tools that need a little more power. Industrial lighting keeps the entire space lit brightly enough to balance your carbs, rebuild a starter motor, adjust a clutch, and figure out what that damn noise at idle is deep into the night.
And once the cars are ready, you have an incredibly short drive to all of the best local craft breweries, hiking, biking, camping, and outdoor activities Colorado Springs has to offer because you are right in the middle of it all! You just cannot find this much room, this much garage space, this close to town for under a million dollars.
5002 Brady Rd (also known as 2105 Broken Cir Rd because of its corner lot) will be available to the masses very soon. Right now, you have a very limited opportunity to get in early for a private viewing. This property is being offered for $549,900.
Unfortunately, I fully expect to have this place sold a little too quickly. I wish I could tell Kelly things like "hey I think we should get different cars down here and reshoot the garage pictures to get more activity", but I don't think I'll have that much time with this one-of-a-kind listing. However, I'm so thankful for the opportunity to sell such a cool and unique property, and I'm glad I got to meet and work for two of the nicest people Realtors like me could hope to have as clients.
For a private showing, please call Patrick Manchester with Manchester Properties at
719-338-3203.
For financing information, and $500 off of your closing costs, call Wendy Ring with Nova Home Loans at 719-321-5548.
*The 1988 Mercedes 560 SEC is ALSO available for purchase. It only has 72,xxx original miles, and it starts and runs exactly like you'd expect from an 80's Mercedes, which is to say flawlessly and reliably. For more information about this car, please click here.
For the interactive virtual tour that will allow you to see the entire house plus the garage, click HERE.
Want Marketing Like This?
Click below for an estimate of your home's value, and to see how a write-up like this can change how buyer's see your property!
Get Home Value