The Colorado Neighborhood Wealthy Buyers Don't Want You to Know About.
Blink and you'd miss the exit. Even once you take the exit off I-25 and find yourself staring at gas stations and fast food restaurants, you're still not sure you're in the right place. But a short, meandering drive east on Highway 105 through the majestic pine trees puts you at the entryway of one of the most serene luxury neighborhoods in Southern Colorado.
An hour south of Denver's booming and bubbling real estate market, and just east of charming Downtown Monument sits a community of luxury homes anchored by a championship golf course. Kings Deer, initially developed in the mid 90's, is almost a secret paradise of quality-built, under-valued homes that savvy buyers have been enjoying for years at a fraction of the price they'd pay for similar houses in Denver, Castle Rock or even Colorado Springs' famous Broadmoor neighborhood.
Not only are the homes in Kings Deer less expensive to purchase, they also sit on more acreage than their contemporaries. The average home in Kings Deer sits on 2.5 acres, while an exclusive number of homes have over 5 acres of land.
This has all made Kings Deer THE choice for savvy, wealthy buyers who want high end luxury real estate, serenity, privacy, easy access to Denver and Colorado Springs, and some of the best links-style golf in Southern Colorado.
But ask buyers in the know, and they'll all remain tight lipped. While Monument and surrounding areas are seeing explosive growth in real estate prices, Kings Deer has remained reasonably priced and still the best bang for your buck if you're shopping for high end luxury real estate in Colorado. These buyers, many of whom are looking for an upscale home base for their commute to Denver without paying Denver prices, are perfectly happy keeping it that way.
If you've been considering a move, you may be interested in the soon-to-be-for-sale French Country Estate at 18550 Archers Drive.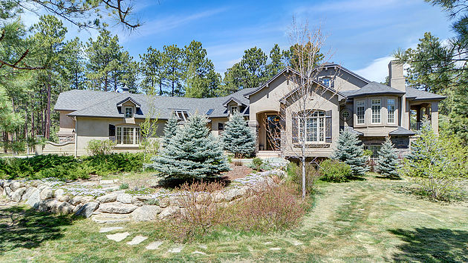 The home was built in 2002 by a well known local couple after years of galavanting around the globe and taking design cues and inspiration from some of the most prestigious hotels and historic architecture in the world. At just under 6,000 square feet, the home boasts 5 bedrooms, 6 bathrooms, and an oversized 4 car garage.
For those who want exclusivity and privacy, this magnificent home is one of the very few in Kings Deer to sit on over 5 acres, and one of even fewer to have those acres covered in beautiful ponderosa pine trees.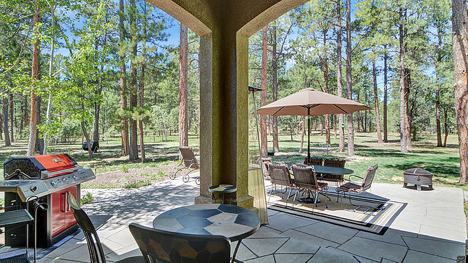 Ever the food lovers, the owners designed a gourmet kitchen ideal for entertaining while preparing the finest meals from all over the world. Dual Kitchenaid ovens, gas cooktop, and side by side freezer/refrigerator, all finished in stainless steel, help the chefs put on a show in the kitchen, while guests can relax at the Giallo Venezia honed granite high bar.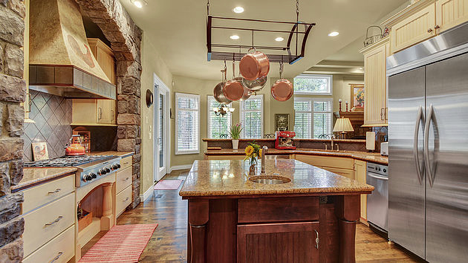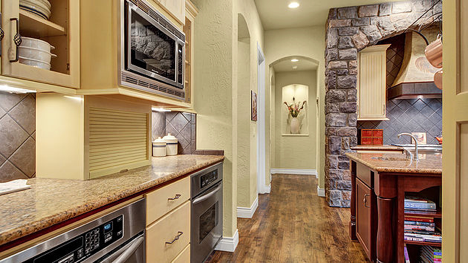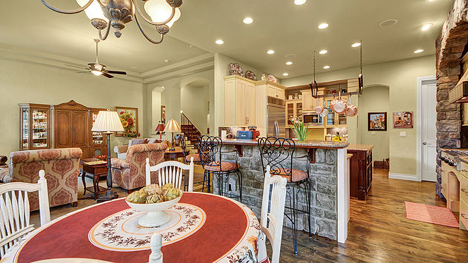 And what party is complete without wine? When one bottle runs out, the next is discovered downstairs in the custom wine storage and tasting room. The finest offerings from France, Spain, Italy, California and beyond can be stored in the bespoke, hand built racks of alder wood finished in a lovely walnut stain.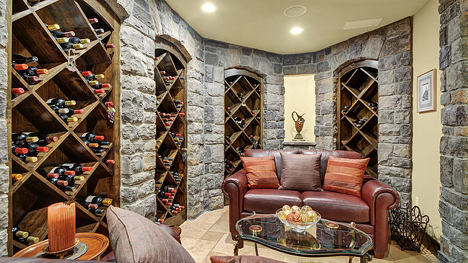 18850 Archers Drive is truly the most desirable home, on the most desirable lot, in one of Southern Colorado's most desirable neighborhoods. This beautiful home will be offered to the general public starting June 1. The owner's are asking $949,900. For a private pre-listing tour of the home and grounds, please call Patrick Manchester at 719-338-3203.
For a full, interactive tour of the interior, from your phone, tablet, or computer, please click the video below and use your mouse or arrow keys to explore at your leisure.
For more information about Kings Deer Golf Course:
http://www.kingsdeergolfclub.com
For more information about the town of Monument, Colorado:
Want Marketing Like This?
Click below for an estimate of your home's value, and to see how a write-up like this can change how buyer's see your property!
Get Home Value